Leading-edge solutions that exceed expectations
Simard offers state-of-the-art solutions to help you make the optimal business decisions for your logistics needs.
Transportation management system (TMS) features:
Real-time delivery status tracking
Automatic pickup and delivery notifications
Web platform with personalized dashboards
Online reporting
Mileage and rate calculators
Integrated EDI
Online delivery instructions and appointment system
Warehouse management system (WMS) features
General, dedicated, and specialized warehousing (ERP, distribution)
Inventory monitoring with digital imaging
Online real-time inventory
Web portal with personalized dashboards
Customized automated reports
Seafreight and airfreight management
Storage calculator
Electronic data interchange (EDI)
View the list of EDI documents shared with our partners.
Simard supports ANSI X12, UN/EDIFACT, and XML standards, as well as UDF and CSV. Electronic information is transmitted using a value-added network (VAN), file transfer protocols (FTP), and as email attachments.
204 – Motor Carrier Load Tender
210 – Motor Carrier Freight Details and Invoice
211 – Motor Carrier Bill of Lading
214 – Transportation Carrier Ship Status Message
Pick up Statuses:
AA Pickup appointment entered/changed
X3 Pickup arrived
AF Pickup completed
CA Pickup voided
A7 Pickup refused
Delivery Statuses:
AB Delivery appointment entered/changed
AG Delivery estimated entered/changed
X6 En route to delivery location
X1 Arrived at delivery location
D1 Completed unloading at delivery location
CD Departed delivery location
X4 Arrival at terminal location
P1 Departed at Terminal Location
CA Delivery voided
A7 Delivery refused
X5 Return date for Full or Empty Container to Terminal
315 – Status Details (Ocean)
Estimated Arrival date (time of container at container terminal)
Date and time container was actually picked up from the container terminal
Date and time container steamship released
Date and time container customs released
Date and time container available for pick-up at the container terminal – all releases in order
Date and time storage starts for container
Date and time chassis detention starts for container
Date and time demurrage starts for container
Date and time container unloaded from rail – becomes accessible for pick-up
943 – Warehouse Stock Transfer Shipment Advice
940 – Warehouse Shipping Order
944 – Warehouse Stock Transfer Receipt Advice
945 – Warehouse Shipping Advice
990 – Response to a Load Tender
997 – Functional Acknowledgment
CUSCAR – Consolidation Summary Report Message
CUSRES – Canada Customs Response/Release Notification Message
CUSREP – Canada Customs Arrival Certification Message
Interactive platform
Simard has an interactive online platform that tracks all your shipments.
CLIENT ACCES
We are committed to meeting our partners' requirements while safeguarding the integrity and reliability of data and facilitating data transfer.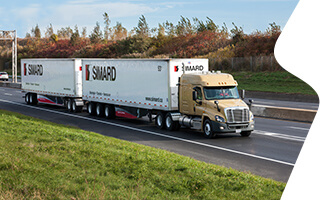 TRANSPORT
The expertise you need to optimize supply chain solutions. 
LEARN MORE >

WAREHOUSING
Take advantage of our warehousing logistics solutions tailored to your needs.
LEARN MORE >
LOGISTICS
Benefit from our extensive network and our exceptional flexibility.
LEARN MORE >