Don't just meet the very highest industry standards – exceed them.
Simard takes every necessary precaution to make sure your goods are secure and closely monitored.
Our equipment is regularly inspected in accordance with a rigorous maintenance program.
Our facilities are under high surveillance 24 hours a day, 7 days a week, by highly qualified security professionals using video surveillance.
All new Simard drivers complete a full training program. We also provide professional development opportunities to ensure our employees comply with all laws and regulations including the Highway Code. And we offer additional training as needed in a host of areas:
Hours of service and rest
Pre-departure inspections
Load Distribution
Load Securing
Dangerous Goods
Simard company policies and procedures
Simard is a member of, or certified by, the following associations: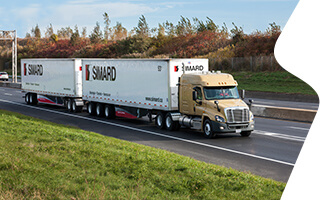 TRANSPORT
The expertise you need to optimize supply chain solutions. 
LEARN MORE >

WAREHOUSING
Take advantage of our warehousing logistics solutions tailored to your needs.
LEARN MORE >
LOGISTICS
Benefit from our extensive network and our exceptional flexibility.
LEARN MORE >