Even Further
SIMARD, a trusted brand since 1943
WAREHOUSING
Raising the bar EVEN FURTHER.
TRANSPORT
Driving your business EVEN FURTHER.
LOGISTICS
Optimizing your supply chain EVEN FURTHER.
CAREERS
Taking your career EVEN FURTHER.
Always here for you… before, during and after
delivery.
We pool our resources and expertise to
provide customized logistics solutions tailored
to your current and future requirements.
Our aim is to add value to your supply chain, while reducing your overall transportation costs.
Our commitment to going even further shines through in the way we plan, manage and execute each and every delivery.
DISCOVER OUR PHILOSOPHY >
team members to serve you
motorized and non-motorized equipment
terminals and distribution centres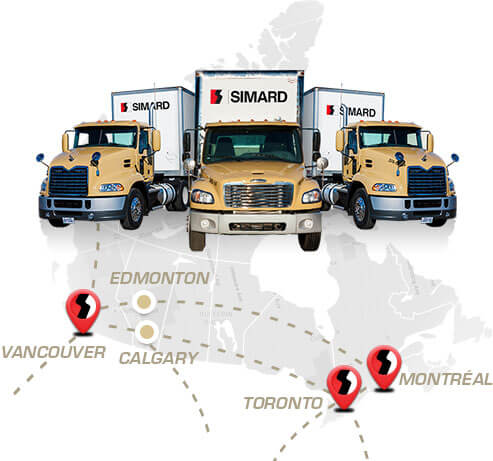 Ready to exceed your requirements
Our Montreal facilities in the heart of the Lachine industrial park reflect the proud tradition of excellence in transportation, warehousing and logistics that has driven us since our foundation in 1943.
Since 1997 we have provided outstanding transportation, warehousing and logistics services through our facilities located midway between rail access and Pearson International Airport.
To meet all your consolidation, deconsolidation and transshipment needs, our Richmond facilities have provided state-of-the-art transportation, warehousing and logistics services since 2003.